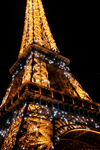 Dinner at the Restaurant 58 Eiffel Tower
Price from £ 26
Enjoy a lovely dinner at Restaurant 58 Eiffel Tower! It's a truly Parisian experience you'll never forget. With prebooked tickets you skip the normal line to the Eiffel Tower and start enjoying your special night.

Highlights:
- Enjoy a delicious dinner at Restaurant 58 Tour Eiffel
- Take in the panoramic view of Paris by night
- The lift ticket is included in the price
- Skip the line with prebooked tickets
- Buy tickets for the top of the Eiffel Tower

Great Atmosphere, Amazing Views & Delicious Food
Restaurant 58 Eiffel Tower is located on the first floor of the Eiffel Tower and has a beautiful panoramic view over Paris. With the restaurant's sleek design and lovely French food the settings are perfect for a night out in Paris!

The atmosphere in the restaurant is one of quiet comfort and tranquility, and the furniture is minimalistic so not to steal the lights of the city.

Your hostess will welcome you and show you to your table where you will enjoy a chic and trendy menu with table service.

You can see the different menus here:
18:30 - Tentation & Plaisir menu
21:00 - Sensation & Service Premier menu

How do I get my tickets?
Shortly after your booking is complete your e-ticket will be send directly to your email, just print it out and bring it with you to the Restaurant 58 Tour Eiffel.

What time is the dinner served?
Depending on which menu you choose, dinner is served at either 6:30 PM or 9 PM.

How long do I have my table?
You'll have your table for approx. 2 hours.
Is there a dress code?
Yes, the dress code is casual and business casual. Tie, suits or dress are optional. Jeans, shorts, sneakers are not permitted.
Is smoking allowed?
No, smoking is prohibited in the restaurant.
Are there children's tickets?
Yes, children's tickets are available for children under age 13.
Fantastic
4.8
6 customer reviews
Meal at Restaurant 58 Eiffel Tower
We had a lovely night at the Eiffel Tower Restaurant, the service was great and the food was delicious. We left if quite late to book so we didn't manage to get a window seat but we were pretty close and could see out over the city. The only thing we thought was lacking was background music, which made the night a little less romantic.
Eiffel Tower Tour with Dinner
This was a fabulous experience> the food was delicious and we had a fantastic view from our table. All the staff were very friendly and could not do enough for us, Well worth the money.,especially the package with drinks as well as we had Champagne and wine.
Not to be missed.
By booking online the process was so easy, no waiting in the hour long ques, From the start we were made to feel special. I forgot to take my voucher, but without a fuss they accepted my confirmation receipt.The food was gourmet, and the presentation was perfect. It was our wedding anniversary and I could not have asked for more.
dine at 58 Eiffel tower.
I thought that I had all my documents for meal , I was advised that I did not have voucher, but they had my name on their list, so they let my wife and myself in, a bit embarrassing, but the meal and service where exceptionally good. I would recommend this to anybody. WELL DONE.
Spectacular
I was unable to get the 18:30 sitting despite booking nearly 4 months in advance, however I got the 21:00 sitting and I was assured that my 10 year old daughter would be able to eat despite there not being a junior menu at that time.

The e-ticket had clear instructions, including that you still need to pay for the Eiffel Tower lift ticket. However when we went to the ticket lady and asked for the tickets (in my best broken French!) she didn't charge us at all ... result!

We got the lift at about 20:30 and arrived just before 21:00, that meant we were seated very quickly and received our food swiftly, I recommend you all try it.

The restaurant is amazing. Great atmosphere, amazing views, delicious food - my daughter loved all 3 courses. My particular thanks must go to our waiter 'Sam', who made my wife, daughter and I feel like the most important customers in the restaurant.

Many thanks.
Dinner at the Restaurant 58 Eiffel Tower Info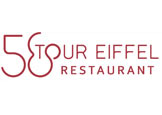 Dinner at the Restaurant 58 Eiffel Tower
58 Tour Eiffel
Eiffel Tower -1st floor
Champ de Mars, Paris 7
Info
Dinner at the Restaurant 58 Eiffel Tower
Dinner is served at 6.30 PM and 9 PM.
Directions
Directions
Take the metro to Bir Hakeim station



View map
The season is over. Tickets for next season will be on sale in June. Please check the website for details.