Moulin Rouge
Price from £ 94
The Moulin Rouge has been captivating and entertaining audicences from around the world since it opened its doors in 1889. It is a truly Parisian experience and should be included in any Paris to do list! Book your tickets in advance to make sure you don´t miss out on a show unlike any other! It would also make a nice surprice for your family, friends or significant other!

Highlights:
- Secure your tickets for the The Moulin Rouge
- Skip the line at the box office
- Enjoy an incredible show either with a marvelous dinner or with some champagne

"Féerie" : an amazing can-can show lasting two hours!
Admire the impressive troupe of 60 artists hailing from all over the world as they perform in the lengendary show "Féerie". "Féerie" is a spectacular two hours of feathers, rhinestones, glitter, lavish settings, acrobats, original music - and of course: the famous French can-can dancing!

The show represents many aspects of Parisian culture, energy and ambiance!

You also have the option of booking a pre-show dinner at the Moulin Rouge, so you can start your evening with some fantastic traditional French cuisine. Delicious, refined dishes served alongside some appetizing champagne - the Moulin Rouge´s official drink!
You can choose between two types of tickets: "Féerie" & champagne (show and champagne) or "Féerie" & dinner (show and dinner with champagne)
For the "Feerie" and dinner combination there are various different menu options, which you can see here:
- Valentine's menu

How do I get my tickets?
Once your booking has been completed and confirmed you will receive an e-ticket by e-mail. Simply print it out and bring it wiht you to the Moulin Rouge.

When does the show start?
The show runs daily at 9 PM and 11 PM. If you choose tickets with dinner, then dinner will be served at 7 PM and the show will begin at 9 PM.
Whether you choose tickets with or without dinner it is a good idea to be at the Moulin Rouge half an hour before to the show is due to start.
What is the duration of the show?
The show lasts for 2 hours.

Is there a dress code?
Yes, the dress code is casual or business casual. Tie, suits or dress are optional. Jeans, shorts or sneakers are not permitted.

Are children allowed?
The Moulin Rouge is not suitable for children. Children under the age of 6 will not be allowed to enter.

Important information:
- The Moulin Rouge is very popular, and can often be sold out for Friday and Saturday performances months in advance. So the sooner you book the better the chances of getting tickets! If you can go to a mid-week performance, when it is not so busy, the likelihood of getting tickets is much higher!
Fantastic
4.8
9 customer reviews
moulin rouge
Show was fantastic. We had great seats near the front and the champagne we got on arrival made the evening special as it was a birthday.
Moulin Fantastic Rouge!!!
Recently visited the Moulin Rouge Extravaganza show show....fabulous from start to finish with my wife for her 40th birthday...a must see if you visit Paris...it adds a new and unique French dimension to Paris. The queuing was not bad either, we were on the 11pm show, so started to queue at 10.10pm and glad we did really we ended being seated centre and towards the front which was fabulous and the champagne arrived very quickly complete with ice bucket. The show was amazing, colourful costumes, dances, comedy, and amazing performing acts overall a great collection of performances and really well worth the money...Simon & Angela x
Moulin Rouge - just brilliant
We managed to get tickets to the Moulin Rouge at quite short notice through ParisEventTickets. It was an absolutely fantastic show and meal. We thoroughly enjoyed the whole evening and would highly recommend this to everyone.
Brillant Night Out.
My Fiancée has wanted to visit the Moulin Rouge for 13 years after she first saw the film. I was finally able to take her and it did not disappoint; from start to finish the show was amazing. She loved every minute and so did I - would recommend to anyone!
Loved it
Coming to the show was amazing we loved every minute of it, if your going to paris go to the show,
steve from spain
Terrific experience, good food well served, show spectacular. For any celebration, The Moulin Rouge, has got it covered. WELL DONE.
George and Isobel McArthur
The acrobat, ventriloquist, and roller skaters were highly entertaining. The costumes of the dancers were nice. The dancing was out of time and we have seen better on cruises. The setting was fabulous, the champagne was a nice touch. The queues were extremely long so make sure you arrive early. It was a good evening in Paris.
Joan Welch
It was really great, such energy, colour, full of fun. Brilliant evening entertainment.
The supporting acts were also very very good.
We really rate this highly.
Thank you.
Joan
Amazing
This show was unbelievable! Defo worth booking through this company before you go! We done the show & champagne option as we already had dinner reservations at our hotel. The show lived up to our expectations and more! We booked all our trips through this and when we got to Paris we didn't need to worry about paying for nights out as it was taken care of. Such an amazing time we had!
Moulin Rouge Info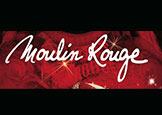 Moulin Rouge
Please arrive 30 minutes before the start time:
Bal du Moulin Rouge
82, Boulevard de Clichy
75018 Paris

Info
Moulin Rouge
Show and champagne (1/2 a bottle):
every day at 09:00pm. On Fridays and Saturday also at 11:00pm.

Dinner and show:
every day at 07:00pm.
Directions
Directions
Take the Metro to Blanche Station



View map
The season is over. Tickets for next season will be on sale in June. Please check the website for details.