Paris Full Day
Price from £ 112
This tour "Paris Full Day" is a perfect way to discover all of Paris incl. a visit at the Louvre and Notre dame, a cruise down the Seine and lunch at The Eiffel Tower!

Because all monuments visited on this day's excursion are located along the Seine, we suggest using an unusual means of transport: The River Shuttle. The day starts off with a guided visit of the main rooms of the Louvre Museum , incl. the Venus de Milo ", "the Winged Victory ", and "Mona Lisa " painted by Leonardo da Vinci .

Then, the river shuttle takes you on the Seine and passes many of Paris' beautiful monuments en route to the Eiffel Tower where lunch (2 courses incl. drinks) is served in the unique setting of the new restaurant located on the 1st floor of the Tower. There is time to hand to visit the monument.

Then, off with the river shuttle again to Notre-Dame Cathedral . A guided tour of this gothic work of art built between 1163 and 1345 is included in the tour!

All entrance tickets and lunch are included in the price!

The Tour is in English!

Duration: 7.5 hours.

Children: 4 to 17 years old.

Departure Times: The Tour starts at 9.30am. (From Apr. to Oct.: Mon. & Wed. to Sun.). (From Nov. to Mar. Mon., Fri. to Sun.) Closed every first Sunday of the month. Please be at the departure point at least 20 min. before start.

The Paris Full Day Tour begins at 2, Rue des Pyramides, 75001 Paris and ends at Notre Dame!

NB. You walk from 2, Rue des Pyramides, 75001 Paris, through Tuileries gardens to The Louvre Museum!
Paris Full Day Info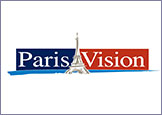 Paris Full Day
Please be at this location no later than 20 minutes before departure:
CityRama
2 Rue Des Pyramides
75001 Paris.
Info
Paris Full Day
The Tour starts at 9.30am:
From Apr. to Oct.: Mon., Wed., Thur., Fri., Sat. & Sun.
From Nov. to Mar. Mon., Fri., Sat. & Sun

Directions
Directions
Take the Metro Line 1 to The Tuileries Station



View map
The season is over. Tickets for next season will be on sale in June–. Please check the website for details.