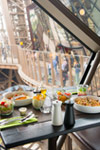 Lunch at Restaurant 58 Eiffel Tower
Price from £ 19
Enjoy a nice lunch at Restaurant 58 Tour Eiffel at the Eiffel Tower in the heart of Paris. The food is great and the view is absolutely breathtaking. Great value for money!

Highlights:
- Enjoy a lovely lunch buffet at Restaurant 58 Tour Eiffel
- Choose 3 courses incl. drinks
- Take in the panoramic view of Paris
- The lift ticket is included in the price
- Skip the line with prebooked tickets
- Buy tickets to the top of the Eiffel Tower

Enjoy a Lunch in the Eiffel Tower
Complete your trip to Paris with a great lunch at the famous Restaurant 58 Tour Eiffel located on the 1st floor of The Eiffel Tower.

When you arrive at Restaurant 58 your hostess will escort you to your table where you order your drink. Then you head to the buffet by the kitchen where you compose your lunch.

You can see a menu example HERE.

If you'd like go either higher in the Eiffel Tower you can buy tickets for both the 2nd and 3rd floor from here and avoid the line.

How do I get my tickets?
Shortly after your booking is complete your e-ticket will be send directly to your email, just print it out and bring it with you to the Restaurant 58 Tour Eiffel.

What time is the lunch served?
You can choose between booking your tickets for 12 PM or 1:30 PM. Please collect your lunch & lift tickets no later than 30 min. before your booked lunch time.
How long do I have my table?
You'll have your table for approx. 1½ hour.
Is smoking allowed?
No, smoking is prohibited in the restaurant.

Are there children's tickets?
Yes, children's tickets are available for children between age 0-12.
Fantastic
4.3
3 customer reviews
Fantastic experience
What an amazing day. Celebrating 50th birthday. No waiting in queues. The staff were all friendly and very accommodating. They even moved us so we could have a window view. Excellent value for money.
Beat the queues and go for lunch!
By having restaurant tickets we beat the horrendous queue for tickets and only had to wait 5-10mins for the lift to level 1. Although our restaurant ticket wasn't until 13:30 we were allowed to go up at 12 and enjoy the views. Dinner itself was well cooked and provided a wider selection than the sample menu and a drink and coffee were included. Our order was taken promptly once we had been seated, with a 10 minute delay to sit but an excellent view across the river. The 3 courses all arrived at once but the mainstayed hot in their special dish so it wasn't a problem. They have a photographer who comes round and can capture some special moments but the cost was 2 for €25 so a little expensive but we got some nonetheless. We then were able to walk up to level 2 and explore the gift shop and there was also some other food kiosks there. We had the option to buy a lift ticket to the top for €6 but the queue was circling around just for a ticket and then another queue of equal distance for the lift itself! Overall we thoroughly enjoyed it and would strongly recommend for an afternoon!!
Great experience
We had a lovely trip up the Eiffel Tower on Saturday 25th May. We collected our lift pass painlessly from the restaurant point between the north and east pillar and sailed past the long queues straight into the lift. We were given a lovely seat by the window and the quality of the lunch and the attentiveness of the waiters was excellent. It was worth every penny to save a couple of hours of queuing plus the bonus of being able to sit and enoy the view over The Seine while we ate our lunch.
Lunch at Restaurant 58 Eiffel Tower Info
Info
Lunch at Restaurant 58 Eiffel Tower
Lunch is served every day at 12:00am or 01:30pm.
Directions
Directions
Take the metro to Bir Hakeim station



View map
The season is over. Tickets for next season will be on sale in June. Please check the website for details.