Moulin Rouge
Price from £ 99
Bal du Moulin Rouge is the world famous cabaret in Paris. Féerie is the current show at Moulin Rouge, and tickets to Féerie in Paris can be bought here!

Moulin Rouge's "Féerie " is genuine French "Can-Can", show, circus and beautiful girls. "Féerie" is also music, dance amazing costumes, boas and feathers, clowns, horses and reptiles and much, much more.

We promise you will not be disappointed!

We sell tickets to "Féerie & champagne " and to "Dinner & Féerie "!

Times:
Show incl. 1/2 bottle champagne; Every day at 9:00pm and 11:00pm.
Dinner & show; Every day where you dine at 7:00pm and enjoy the shows from the same seats at 9:00pm.

Read more about Mistinguett menu here.
Read more about Toulouse-Loutrec menu here.
Read more about Belle Epoque Menu her.

Read more about the Christmas menu here!
Read more about the New Year's Evening show & Menu here!

If you choose with or without dinner it is a good idea to be at Moulin Rouge 30 min. Prior to start!

Dress code:
Tie, suit or a dress is not required. However please wear nice and casual dress. Jeans, short-pants and leisure wear are not allowed.

Children:
The Moulin Rouge is not suitable for children and children under 6 years old is not allowed.

NB: Moulin Rouge is very popular, and can often be sold out Friday and Saturday months ahead. So the sooner you book the better the chances are you can get tickets. If you can visit Moulin Rouge other days than the weekend will have a far better chance of getting tickets!
4
Fantastic
4.5
Reviews from 4 customer reviews
steve from spain
Terrific experience, good food well served, show spectacular. For any celebration, The Moulin Rouge, has got it covered. WELL DONE.
George and Isobel McArthur
The acrobat, ventriloquist, and roller skaters were highly entertaining. The costumes of the dancers were nice. The dancing was out of time and we have seen better on cruises. The setting was fabulous, the champagne was a nice touch. The queues were extremely long so make sure you arrive early. It was a good evening in Paris.
Joan Welch
It was really great, such energy, colour, full of fun. Brilliant evening entertainment.
The supporting acts were also very very good.
We really rate this highly.
Thank you.
Joan
Amazing
This show was unbelievable! Defo worth booking through this company before you go! We done the show & champagne option as we already had dinner reservations at our hotel. The show lived up to our expectations and more! We booked all our trips through this and when we got to Paris we didn't need to worry about paying for nights out as it was taken care of. Such an amazing time we had!
On Request Tickets

Our local agent needs to confirm availability for this performance. This should not take more than 24 hours
Read more
Moulin Rouge Info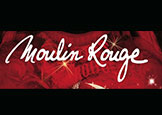 Moulin Rouge
Please show up 30 min. before start at:
Bal du Moulin Rouge
82, Boulevard de Clichy
75018 Paris

Info
Moulin Rouge
Show incl. 1/2 a bottle of champagne;
Every day at 9:00pm & 11:00pm
Dinner & show;
Every day at 07:00pm
Directions
Directions
Take the Metro to Blanche Station



View map
The season is over. Tickets for next season will be on sale in June–. Please check the website for details.